Transforming
Customer-Centric Communications
Take the one minute tours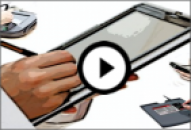 Connect with us on Linkedin

Call +44 (0)203 150 1081

or click here to arrange a callback
| | |
| --- | --- |
| ICO issues Video Conferencing Guidance | 8th Jul 2020 |
ICO Key Recommendations
The ICO guidance's recommendations include:
Make use of privacy and security features - for example, restrict access to those who need to attend add meeting IDs and passwords to meetings and control who can share their screen. Ensure staff are aware of how to use these features

Be aware of phishing risks - online 'live chat feature' can potentially spread phishing messages. Staff should be vigilant and not click on links or attachments they do not recognise and were not expecting


Check your organisation's policies - if organisations have preferred technologies or tools, these should adhere to their own security requirements

Ensure software is up-to-date - use software monitoring tools to ensure software and security are updates. When web-browsers are used for video conferencing services, ensure these are also kept up-to-date

Review software options - the ICO recommends re-visiting the decisions once organisations have the time and resources as requirements may change over time.
Comment
COVID-19 rapidly increased video conferencing use, with lockdown imposing increased working from home. Organisations needed to adapt quickly, with many meetings moved online. However, as the guidance notes, the data privacy issues must not be overlooked and need to be reviewed as we adjust to the new ways of working.
Whilst compliance with regulatory requirements is necessary, there are usually many ways to achieve this and compliance needs to be balanced against overall process effectiveness. If you would like additional support, contact us.
Accreditation & Memberships include:







Please click above to request a callback
© icon uk Ltd 2021 Terms & Conditions | Privacy Policy | Site Map | Contact Us | Careers | Site Usability
Powered by Intergage