Today's Report by Forrester, "The Time For A Digital Signature Is Now", highlights the dependency that digital businesses around the world will have on including the right digital signatures within their toolkit. As consumers expect businesses to respond to and anticipate their new digital needs, adoption of technologies from the right vendor can absorb most of the compliance burden. Broad scope means compliance from PSD2 Strong Customer Authentication to Anti-Money Laundering and Know Your Customer regulations.

But businesses often do not know how to scope or evaluate their digital change processes with regard to digital signatures. Security and Risk Professionals must upgrade their knowledge to help colleagues evaluate the best deployment options. The Report explains that "electronic signatures are not all the same" ranging from simple eSignatures relying on an email address for identification purposes to robust and highly secure options such as Qualified Signatures with an associated Qualified Certificate issued by a Qualified Trust Services Provider ("QTSP").

The latter complies with electronic identification and trust services ("eIDAS") regulations in Europe, comprising a Qualified Electronic Signature ("QES"). eIDAS regulations create a harmonized approach including requirements and standards across the EU for trust services supporting identity attribution, authentication, and signature. An increasing number of geographies worldwide have adopted similar standards and regulations, which Forrester note means that "eIDAS-like requirements are going global". The market is on the verge of transformation.

The report analyses the market and vendors, discussing topics such as:
Digital Signature Market is poised to take-off
The eIDAS Regulation defines Digital Identity and Trust Services Providers
Adoption of Digital Signatures is a Business Priority
Post-Pandemic Engagement requires Companies to strengthen their Signature Toolkit
Digital Signatures deliver even more value (compared to simple eSignatures) in the New Normal
Recommendations (including 'Choose your QTSPs based on Risk Appetite and Legislation')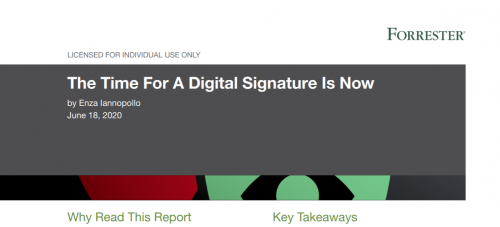 Contact us to discuss any of the issues raised and/or how we can help.