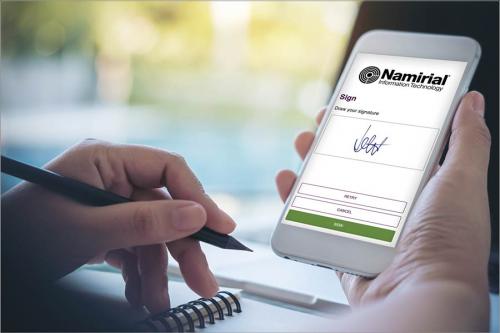 Ambienta SGR S.p.A. ("Ambienta"), Europe's largest sustainability focused Private Equity investor, acquired 70% in Namirial S.p.A. ("Namirial"), a leading provider of digital solutions empowering businesses to transform their process in a trustworthy manner. Namirial founders Enrico Giacomelli and Claudio Gabellini retain 30% of the company.

Ambienta will enable Namirial to accelerate its ambitious growth strategy by further extending its international presence and enriching its product and services portfolio. Recently, the COVID-19 pandemic triggered additional demand for digital services across the Namirial solution portfolio which includes Digital Transaction Management as well as software applications for professionals and enterprises.

Digitalization is intrinsically linked to sustainability. By enabling businesses to digitalize, Namirial enables efficient remote working and transaction execution, reduces the use of paper and the need for traveling to in-person meetings, and helps businesses make a significant saving in the usage of paper, water, energy, and landfill, as well as reducing their CO2 footprint.

Headquartered in Senigallia, Italy, Namirial provides a wide range of digital transaction management ("DTM") solutions – including customer identification, onboarding and authentication, e-signatures, long-term archiving, electronic registered delivery, e-invoicing, and document workflows. Namirial also produces compliance related software solutions and services for accounting, HR, tax, building and construction, and cyber-defence.

Ambienta recognizes Namirial being very well positioned for above-average growth due to:
A proven track record of delivering outstanding service in the digital transformation industry, supplying blue chip customers and becoming their global solution standard.

Ability to offer its services via direct and indirect channels. The successful channel partner engagement strategy is confirmed by the strength of its long-term relationships, such as with Icon UK, as well as being able to onboard new value-adding vendors geographically within its partner ecosystem.

Full commitment to international industry standards, documented in various, repeated certifications. Operating as a qualified trust service provider according to EU Regulation 910/2014 eIDAS is allowing Namirial to fulfil even the most complex legal requirements.

High flexibility in meeting customer requirements. Including the possibility for organizations to use their own branding, to select the preferred deployment option, either in cloud or on-premises, to integrate into enterprise applications within hours using zero code options or alternatively using sophisticated, well documented, application interfaces.

Evolutionary approach to digital transformation converting businesses from models based on physical branches with in-person engagements towards embracing online as well as no-attended self-service branches, covering all steps of a customer journey whether in physical or digital engagement.

The company was founded in 2000 by Enrico Giacomelli and Claudio Gabellini, who will retain stakes of 25% and 5% respectively. With 440 employees, offices in 5 countries and 120 international partners, Namirial serves over one million customers worldwide, including both large businesses and SMEs. The company enabled over one billion transactions in 2019 for which more than 500 million electronic signatures were generated.

The driver of this strong growth has been the successful conversion of businesses from models based on physical meetings to online engagements and non-attended self-service branches, covering all steps of an omni-channel customer journey.

Ambienta will enable Namirial and its management team to scale-up the company's ambitious growth strategy by strengthening the firm's organization, further extending its international presence and enriching its products and services portfolio.

Giancarlo Beraudo, Partner at Ambienta, commented: "Namirial fits perfectly into Ambienta's investment portfolio as its solutions help reduce businesses' environmental footprint and also tap into the trend towards more remote working and the digitalization of business processes. The way we all work is changing, and Namirial services will help customers work remotely, eliminate paper, save hundreds of thousands of trees every year and reduce water consumption."
About Ambienta
Ambienta is a sustainability-focused European Asset Manager, leader in applying environmental sustainability trends to investing. Operating out of Milan, London and Düsseldorf, Ambienta is focused on investing in private and public companies driven by environmental megatrends. With funds under management of over €1 billion on the private equity side, the world's largest capital pool for this strategy, Ambienta has completed thirty-seven investments to date in the areas of resource efficiency and pollution control throughout Europe. In public equity markets, Ambienta has pioneered the world's first absolute return fund entirely focused on environmental sustainability.
For further information please visit www.ambientasgr.com

About Namirial
Namirial is a multinational provider of information technology. Digital trust solutions are Namirial's major line of business on a global level. Namirial is certified as a Qualified Trust Service Provider under EU Regulation 910/2014 eIDAS, accelerating digitization of private sector and public administration.
Additional lines of business include telemedicine, cyber defence as well as software solutions and services for building and construction, human resources and tax processing.
For further information, for UK organisations please contact us in the first instance, or for others visit www.Namirial.com