CeBIT is the world's most important business IT event. From March 10th-14th, 2014, our hardware device partner Wacom will be presenting solutions for an efficient future - showcasing our market leading xyzmo SIGNificant eSignature software.
Visitors can find us in Hall 3, booth E29. For UK organisations not intending to visit CeBIT, we are bringing the highlights to the UK for a special eSignature solutions briefing on 27th March in London.

At CeBIT, the Wacom STU-530 signature pad and DTU-1031 signature display will be highlighted. The STU-530 is the ideal solution for all customer contact points or POS. With its high-resolution colour LCD display, it offers a comfortable signing experience. Its thin product design answers the needs of the market for a modern, robust, ergonomic and reliable signature pad. If not in use for signing, the STU-530 serves as marketing tool and can be used for branding or advertising. The DTU-1031 combines a large 10.1 screen and state-of-the art encryption. It is especially useful for situations where it is necessary to show a full-size document to the client and sign digitally, e.g. for contracts or tariff agreements.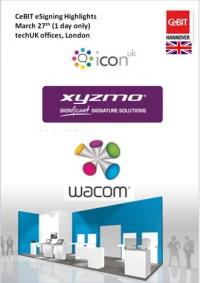 In addition to our partners offering, we are proud to announce a speech by Patrick van Eecke from the large international law firm DLA Piper. Patrick will talk about legally binding electronic signature at the CeBIT ECM Forum, March 11th at 2.30 p.m.

Together with our partners, we will show you how you can integrate both products into different usage scenarios and environments. To arrange a personal meeting tailored to your organisation, click here.

Meet our partners and us at CeBIT or click here to attend the London Briefing.
See the most innovative technology demo's from the show, hear the legal expert summary and discuss why more and more organisations are implementing these high productivity, customer engagement solutions.