Aragon Research latest survey of the Digital Transaction Management market reveals DTM as a cornerstone of Digital Transformation approaches, paving the way for automated journeys. What must organisations know and respond to? Contact Aragon or see our summary below.
Where are we in DTM?

Paper remains one of the major obstacles to becoming fully digital. Aragon estimates that today less than 40% of all document processes are fully digital.

Transforming paper processes can provide one of the fastest ways to digitize customer-facing processes that involve contracts. Because paper processes still dominate, enterprises that start with basic DTM (eSignature) stand to gain a significant competitive advantage. The result of the change is that transactions occur faster, they're easier, and they lead to higher customer satisfaction.

Today, some enterprises are also trying to automate the entire document process. The organizations that have deployed DTM have outpaced their competitors by offering a simplified customer journey that makes signing up for a service or completing a new purchase completely digital.

Further, many firms are also taking the extra step to design entirely new digital services by leveraging a digital platform approach.
Use Cases for Digitizing Paper Processes with DTM

Sales contracts are often the first step in a DTM rollout. Eliminating paper in the sales contracting process can accelerate booked revenue and accounts receivable. Many firms that have deployed basic eSignatures have seen a dramatic reduction in the time it takes to get a contract signed.

Aragon assesses the external use cases that have the biggest impact to include:
| | |
| --- | --- |
| Customer-Facing DTM Use Cases | Employee Engagement DTM Use Cases |
| Sales Contracts | Employment Applications |
| Supplier Contracts | Offer Letters |
| Non-Disclosure Agreements | Employee Onboarding Documents |
| Onboarding of Customers | Confidentiality Agreements |
| Partner and Supplier Onboarding | Stock Options and Incentive Rewards |

Business automation is being understood at a broader level; automating the entire content life cycle, not just the last step in the process. As such, DTM is the cornerstone when it comes to more profound digital transformation initiatives beyond basic DTM (e-Signing) that involve more AI-based content analytics and Advanced DTM (with workflow and content automation). This expanded portfolio is referred to as a DTM platform.

This enables management of content, identity, and signing within predictable and ad-hoc workflows with high or full automation.
Key DTM Considerations

Some of the key aspects of digital transaction management include the use of various forms of cloud (public, private, hybrid) services to digitally manage a wide range of document-centric business processes involving people, documents, data, and transactions both inside and outside the firewall.

DTM goes beyond content and document management to include eSignatures, authentication and non-repudiation; document transfer and certification; workflow; data and forms integration and management; secure archiving that goes beyond records management; and a variety of meta-processes around managing electronic transactions and the documents associated with them.
What should Buyers seek in a DTM platform?

The key things that buyers are looking for in a DTM platform include at entry level:
Ability to assemble a document or a series of documents for signature
Document routing and workflow automation
eSignature capabilities (basic level or advanced)
Core and advanced analytics based on organisational views
Easy Integration with leading content management and other line of business (LOB) systems
Deployment flexibility at back and front ends (including Mobile apps with broad functional spread for remote, in-person and/or offline signing)
Security, performance, provenance and compliance – including full data privacy assurance.
Advanced DTM capabilities sought include:
Asset management, including transaction management and trust services with Qualified Electronic Signatures and Qualified eSeals.
Workflow and content automation (WCA) including dynamic Forms and document generation or Customer Communication Management (CCM, including omni-channel output).
What are my DTM vendor options?

The Aragon Research Globe for DTM examines 20 major providers in a market that has become known as the way to automate legacy, paper-based transactions. The Aragon Research Globe looks beyond size and market share, which often dominate this type of analysis, and instead uses those as comparative factors in evaluating providers' product-oriented capabilities. Positioning in the Globe reflects how complete a provider's future strategy is, relative to their performance in fulfilling that strategy in the market.

The Leaders shown in the extract below all have comprehensive strategies that align with industry direction and market demand, and effectively perform against those strategies. However, for clients subject to GDPR, it may be important to note that just two providers are headquartered in Europe. (Why? See CLOUD Act uncertainties).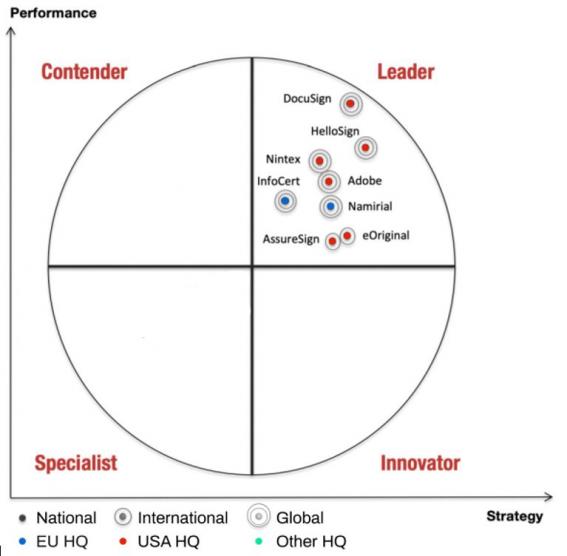 Aragon Research Globe 2020 Digital Transaction Management - Leaders Quadrant
Recommendations:

Enterprises should upscale their digital maturity by:
Any processes still using paper for any part, especially for customer onboarding and contracts, should start by digitising this with basic DTM and automate the signing process.


A broader focus on automating document-focused customer journeys with a goal of simplifying the process and speeding it up.


Carefully evaluate where any signed contracts and documents will be stored and evaluate hybrid cloud providers based on cloud needs (e.g. business critical stored internally versus others stored externally, all on a logically integrated and available range of infrastructure).


Design the mobile experience as a key part of both the customer and employee DTM journeys and ensuring that the functionality offered by the intended DTM provider fully supports this.
Bottom Line

The race to digital starts with eliminating paper-based processes, a race accelerated by Covid-19. The focus typically remains on starting with customer journeys and then progressing to employee-based ones. As competition in nearly every industry becomes heated, the customer and employee experience becomes one of the important battle grounds.

This makes DTM selection even more critical. Enterprises need to balance the ease and flexibility of DTM providers with assurances that they also can pass stringent security measures.
Icon UK Comment:

Our Namirial based solutions combined with Icon consulting and additional integrations form a strong basis for any immediate use with future potential uses also assured by the integrated platform flexibility.

The start is a discussion. Contact us.