Digital Transformations to
Eliminate Your Process Frictions
Take the one minute tours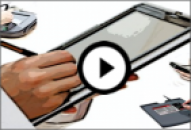 Connect with us on Linkedin

Call +44 (0)203 150 1081

or click here to arrange a callback
SIGNificant e-Signature - short functionality summary
xyzmo SEAL and SIGNificant e-Signature software brings handwritten signatures into the modern age. No longer scan, fax or mail your important documents that you need to be signed.
Just distribute electronically and get your customer to e-sign it, before returning electronically either directly or via a local agent. Easy and secure. Speed up your electronic business processes and secure huge cost and time savings.

Click the video window above to watch the short video summary.
Please note that new compatible hardware devices are being launched or updated frequently. Some devices in the above video are not current stock, being superceded by improved versions and new alternatives. The range of signing devices includes not only dedicated signature pads but also iPads, Android tablets, Smartphones, Windows PCs and convertible-PCs, payment terminals, etc.

Here's a reminder of the key points:
Sign as usual on paper, but digitally and securely. SIGNificant's socially accepted method has the widest acceptance of any biometric technique. It's forgery proof combination of biometric data such as signature rythmn, speed, pressure, acceleration and movement means a signature can accurately be checked at any time with regard to its authenticity.

No more manual archive, paper-to-digital data extraction barriers, long-term paper storage, etc. Electronic workflows are enabled.

Multiple signers in different locations can sign within minutes of each other.

Easy to integrate into existing IT environments.

It's success lies in its socially acceptable method; signing continues to be signing!

SIGNificant offers security, speed and enormous cost savings.

Explore further information on the website or contact us to discuss your circumstances.