Digital Transformations to
Eliminate Your Process Frictions
Take the one minute tours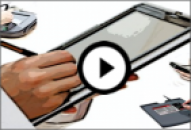 Connect with us on Linkedin

Call +44 (0)203 150 1081

or click here to arrange a callback
Careers
We are always looking for new talent and new ideas. If you are an ambitious and passionate professional with the skills and desire to plan and deliver strategic technology solutions to drive our client's success, we'd like to meet you. Whether your skills are mainly in the Business, Technical or Information domains, or a mix of such capabilities, if you have commitment to excellence and attention to detail you'll find a facinating challenge at iconuk (see Our People for more on our approach).
At iconuk, you'll find a fast-paced, intellectually stimulating environment that is also fun, creative, and supportive. We offer opportunities to grow your skills and knowledge base through training, conferences, and leadership roles. It is this kind of environment that attracts the best in the industry ­ allowing us to best serve our clients which is, after all, why we're here.
Everywhere we go, the icon team is on the lookout for like-minded people, who can bring a little something extra to the business. Do you have experience in the fields of Information Management, Software development and integration, Enterprise IT, Business Process re-engineering, Document Management and/or enterprise CMS systems? If yes and you fancy really making a difference to a wide range of clients' businesses - then give us a call, or leave a message headed "Careers" with your details, or forward your CV/Resume with a covering note addressed to Human Resources by emailing: HR@icon-uk.net .
Current opportunities
ASF Consultant/Architect (mainframe document output)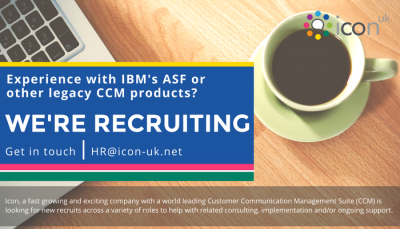 If you are passionate about improving Customer Communications, then Icon is the place for you. We have added complementary modular functionality to our world leading Customer Communication Management (CCM) Suite, DOPiX.
Having won several large and prestigious projects across Europe, Icon are looking for new recruits across a variety of roles to help with related consulting, implementation and/or ongoing support.
DOPiX is an ideal replacement for legacy CCM systems such as IBM's ASF and DCF, IBM DisplayWrite and Pitney Bowes DOC1 V4. So ideally you will have had previous experience of at least one of these products.
We are looking for both technical and business line staff. Work will be based at various locations around Northern Europe and a home office. You should have fluent English, and/or conversational English with fluency in one or more Europen languages.
To get in touch with your CV, potential earliest availability, preference for permanent or contracted work, etc., please email:
Business Development Manager
For the ambitious self-starter who can create a large pipeline of business within a short period of time, for you opportunity knocks. Better rewards for innovative, proven enterprise software sales.

Can you create, identify and close sales with large UK organisations?
Are you experienced in successfully articulating mutual value creation propositions?
If so, as part of prioritising the sales pipeline, you will balance winning short term business with qualified prospects whilst leveraging the company marketing capabilities to assist with engaging longer term suspects. We look for senior sales professionals that have the knowledge and skill sets required to close business opportunities in an Enterprise environment. The BDM will work to establish a sustainable territory calling on larger businesses in one or more of the target sectors - comprising Financial Services (Banking, Insurance, Investment Management), Telecom & Utilities, Healthcare, Public Sector and selected general Commercial.
Download the fuller role description.
We're looking forward to expanding every team in the company. If you feel like we are a good fit for you, please get in touch regardless of specific positions listed.
icon uk is an equal opportunity employer.