Digital Transformations to
Eliminate Your Process Frictions
Take the one minute tours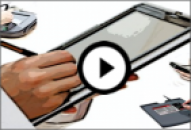 Connect with us on Linkedin

Call +44 (0)203 823 6535

or click here to arrange a callback
Live ID - short summary
Live ID enables remote real-time authentication, identity verification and payment processing - integrated with the sophisticated electronic signing options of eSignAnyWhere ("eSAW").
Deployable as cloud or on-premise software, or as a service, Live ID digitalises the in-person experience. Enable your organisation to combine Sales Advisors and Customer On-boarding staff into one role for end-to-end process completion within minutes:
Sales Advisors conduct fact finding, customer advisory, presentation and closing;
The same Advisors then onboard customers with identity capture, contract completion and eSigning.
Click the video window above to watch the short video summary.
Text, Video, Video CRM, live Video-ID, eSigning and ePayment all integrated into a Chatbox producing legally binding contracts.
Explore further information here on the website, or contact us to discuss your circumstances.