Whilst Brexit has dominated the headlines, the Law Commission has broken through the Parliamentary barricades to publish its findings on the law relating to the electronic execution of documents. Why?

Because a lingering uncertainty around the legal validity of documents executed electronically, at least in some circumstances and for certain transactions, is discouraging some parties from making use of technological solutions which could increase efficiency. And this country both needs a productivity boost and a reduction in uncertainty!
Current problems

Broadly the issues can be seen in five areas:
1. The law on electronic signatures is considered "inaccessible" for some, even in the legal profession, as it is not contained in a single piece of legislation.
2. Practical matters can affect the decision as to whether to execute a document electronically, including the evidential value, security and reliability of different technologies and cross-border transactions.
3. Concern that consumers or vulnerable individuals may be more likely to enter into a binding legal agreement without proper consideration because of the convenience of electronic signatures.
4. Remote witnessing for deeds, as the current law probably does not allow for "remote" witnessing where the witness is not physically present when a signatory signs a deed.
5. Formalities for executing general documents and deeds as influenced by case law (e.g. Mercury Tax Group Ltd v HMRC [2008]), where the current law of deeds is outdated and may no longer be fit for purpose, whether they are executed electronically or otherwise.
For example, although the delivery of deeds is required by both the Law of Property (Miscellaneous Provisions) Act 1989 and the Companies Act 2006, "delivery" is not defined in either statute. Delivery may occur even though a deed is still in the possession of its maker, since physical delivery is not required by the law.

Conclusion: e-Signatures are legally admissible

The Law Commission considers that for Commercial and Consumer documents (its scope) that use of e-signing to execute a document proves clear intent to authenticate such agreement.

This may be with a proviso that any document execution formalities are satisfied (e.g. signatures witnessed or signing is in a specified form). Prescribed form examples include handwritten signatures (which could equally be with an ink pen or an electronic stylus) and the need to include information (such as the remedies available to the consumer) for regulated credit agreements under the Consumer Credit Act 1974.



So, is it a 'green light' for eSigning every kind of document?

The good news is that further still, eSignatures may be admissible in law for proof of the signatory's identity (as in many EU jurisdictions). However the cautionary note is that not all e-signatures are equal! There is a hierarchy of evidential weight attaching to different e-signing formats and associated process elements.

There is an exception to the widespread acceptance in law of remote signing capabilities, that being deeds which may need e-signing of parties in the physical presence of a witness (as observer of the document execution) and such act is recorded on the document itself ("attestation"). Such presence is discussed and it is noted that much of the relevant case law was decided in the last century, when any presence other than physical presence would not have been contemplated by anybody. The Law Commission recognises these as restrictive issues and suggests a possible future review of the law of deeds.

Until then, we need not sit on our hands. Companies should note that this is not restrictive in the case of Simple Contracts. eSigning is perfectly legal in many contracts and forms of standard transactions.
A good deed?

Even for deeds and guarantees it is not wholly restrictive where a sufficiently advanced e-signing online platform is used that enables the conditions of Mercury case law to be met. This is where a party signing a document on an online system can see the entire document and the application of an electronic signature(s) witnessed and attested in the virtual presence of a witness who then applies their own electronic signature onto the same document.

The Law Commission makes recommendations specifically about video witnessing of deeds, including the use of working groups on both practical issues relating to the electronic execution of documents and issues involving video witnessing (Icon will continue to pursue active participation in such groups).

We are also reminded that deeds are not somehow superior to other signed documents simply due to an act of witnessing. It depends. Clearly, they could carry greater evidential value than unwitnessed documents but not if good process has been by-passed or subverted. More, there is no general requirement that a witness must read the document, nor vouch for the identity of the signatory, nor be independent. As such a witnessed deed will not provide complete protection against fraud and forgery. There are industry concerns about vulnerable people and how best to protect their interests.

So given the additional costs of witnessing, organisations should not rush into 'executing documents as deeds' if there is no strong requirement to do so. And where there is a strong requirement, businesses need to work closely with both technology providers that can provide suitable solutions and legal advisers that both fully understand the implications of the law and can help clients formulate a policy view for each specific use case envisaged that balances risk and reward.
The road ahead

The Law Commission sets out options for legal reform which either the Government or the Law Commission could take forward which codify e-signature laws with broad application combining existing legislation (e.g. UK's ECA 2000 and EU's eIDAS) and case law with the needs of a modern context. In Icon's view, this would also help UK legal practices and commercial businesses with overseas customers more efficient and competitive against EU/US peers.

Meanwhile the commission states that in 'most cases', electronic signatures can be used as a viable alternative to (ink/paper) handwritten ones and that there are many benefits to doing so. They believe that increased confidence in electronic execution would "lead to increasingly efficient transactions, which could deliver savings in costs and time and allow resources to be directed to other activities".
Why change?

The benefits of execution processes which are quick and convenient go beyond reduced transaction costs. An uptake in the use of electronic execution in complex legal transactions may enable businesses to grow, as businesses can better meet customer demand for digital products and services. The facilitation of electronic commerce also has advantages internationally, such as reducing procedural layers caused by legal uncertainty in cross-border transactions leading to delays, or other means to adversely impact the competitiveness of England and Wales as a place to do business or adjudicate disputes.

The transitional costs of the reform recommendations are "likely to be slender" and although firms will have to implement revised procedures or IT systems, this could create an opportunity for greater competitiveness particularly with cross-border transactions and situations where reducing signature delays has a material benefit. It's also noted that eIDAS is part of domestic law, and remains so under the terms of the European Union (Withdrawal) Act 2018. The conclusion from discussions with stakeholders is that in modernising "the benefits are likely to outweigh these costs".

We agree – but caution that as with any change of technology or process that it is critical that this is well-designed and executed using appropriate, suitable technologies. Other factors will include questions of evidence, security and reliability of particular types of electronic signatures in particular circumstances and may also include those of trust and identity, the interoperability of electronic signature systems, and the archiving of information, in addition to project matters such as staff training, client communication and contractual updates. That is why we offer the widest range of electronic signing, document completion and remote witnessing options of any company in our market, together with specialist advice to support client and partner plans and implementations. Done well, the results are often remarkable.

Ask us about how. Contact us to discuss your specific challenges, or learn more, and one of our business experts will be happy to assist you!

More details at:
Full Report - Click: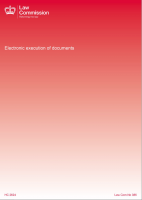 Summary Report - Click: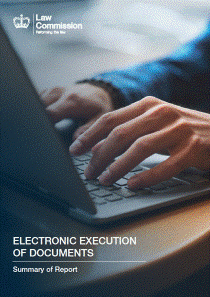 e-Signature Law in 1 page: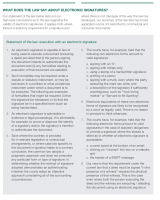 Notes: The article author is Chris Jones, Managing Director of Icon UK. Icon works with organisations of all sizes, but particularly the mid-sized business user community. In relation to this report, Icon has for many years been in discussions with UK law makers and industry regulators to gain both fit-for-purpose e-Signing laws and correct interpretation of these; this is in order to increase confidence amongst the legal community and business practitioners for a modernisation agenda that increases UK productivity and includes e-Signatures, remote witnessing and other modes of electronic execution of documents.
Whilst icon have contributed to the Commission's work in this review, the summary above is based on the Law Commission Report Number 386 which was presented to the UK Parliament pursuant to section 3(2) of the Law Commissions Act 1965 and subsequently ordered by the House of Commons to be printed on 3 September 2019, with publication next day. [This information is licensed under the Open Government Licence v3.0.]
e-Signing ROI Calculator:
If you or your colleagues frequently travel to and from client meetings in order to get documents signed (or otherwise properly executed), you will know all too well that time equals money. Ask us to help you estimate how much you might save with our free ROI Calculator. Or ask about any related matter: CONTACT US

Biometric signature use reduces fraud
A reproduction of an article first appearing in The Sunday Telegraph: The Key to avoiding High Value Fraud (2015)