The ability to Write, Record and Review all your information making it easier for you to check back on what you discussed and agreed – safety and securely.
Record-keeping solution
We're all busy people, right? Well, even if we're not, there are advantages to us recording important conversations. Of course, it's lovely that our pension advisor still pops in from time to time but after we've sat down with them and had a cup of tea and discussed things, does he remember any more than you do on what you discussed? And how do you prove it – from either side?
Convenient solution
Banks are closing branches across the UK at an alarming rate but we all want the convenience of meeting people "out of normal business hours." So, how can we compromise? Banks need to stay open longer and at weekends but also, they still need to have specialist advisors in every branch. Those specialists should be mobile so that we can book appointments with them. Having them travel from branch to branch isn't just a waste of travelling time, but also doesn't address the issue of having a recording of what was discussed and agreed.
If we'd had the right technologies in place for PPI, then perhaps the banks wouldn't be paying out billions in compensations and consumers wouldn't have been overcharged.
Time-saving solution
Some meetings don't need to be had face to face, sharing a cup of tea. In cases where time is of the essence, why not use video consultation technologies for services to reduce timescales and gain expert advice? This can be done securely in the cloud on a service that allows advisors to do back-to-back meetings, pre-scheduled or ad-hoc (team pool). It's an alternative to having them racking up the miles in a car on already congested roads or on public transport which could cause them to be late and miss the appointment.
Easily-accessible solution
Granted, not everyone has a smartphone, tablet or PC, so there still needs to be a way for everyone to be able to access the service. This can be done through providing kiosk-like booths in retail premises such as Banks, Post Offices, Libraries, Government or appropriate business offices. For those people who are fortunate enough to have a browser capable device in their pocket, there are convenient ways in which the service can be obtained at a time and place convenient to both customer and adviser alike.
Write, Speak, Record!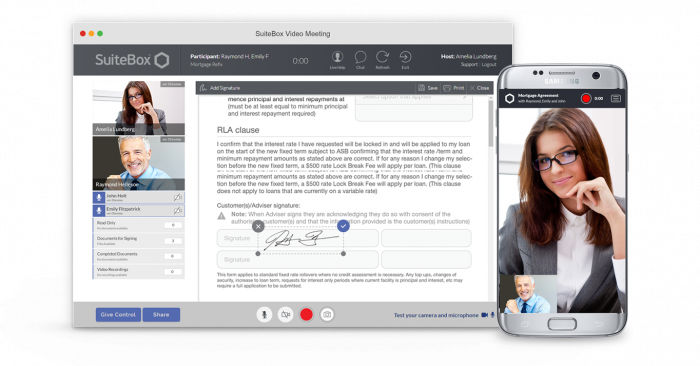 Applications like SuiteBox provide a secure "data room" capability where documents can be stored for both the adviser and customer to review, either together or independently. Traditional video conferencing solutions require you both to be in the session together – SuiteBox changes that to allow either party to place and review documents independently.
When you use SuiteBox to host a video session, it can be recorded along with the documents and any collaborative completion of them along with any screen shares and the web-cam footage of participants. It can also record either party signing any important documents. There are unique features that make the entire process easier and more secure than anything else available on the market today.
Fool-proof solution
Signing a document in front of a bank clerk only proves that someone can sign a signature that looks a lot like the signature of the ID they presented. It's easy to forge normal "wet" signatures in this way. Bank staff might do identity checks on documents, but even this isn't fool-proof. Using technology to verify identities and to verify signatures removes the human element of error – it's why the DWP implemented biometric e-signature verification in Job Centres across the UK, to eradicate identity-based benefit fraud.
Secure solution
Facial recognition is becoming more prevalent in biometric identity verification, with voice recognition also gaining traction with banks instead of traditional passwords. These technologies can provide significant security benefits to all concerned parties. Security and convenience are becoming bywords for how customers and businesses alike expect to interact with each other. But the biometric needs to be provided using some of the strongest cyber-secure technologies and well thought through processes.
Integrated solotion
Bringing all of these services together in SuiteBox makes it a perfect choice for innovative businesses that want to:
Reduce costs,
Increase customer satisfaction and retention,
Increase engagement and revenues,
Shorten on-boarding process times and steps.
All off this can be achieved keeping within legal and regulatory compliance by having video, audio, documents and screen shares recorded securely in the cloud. Most small organisations can run this immediately as a cloud service, whereas large organisations will benefit from Icon UK's in-depth insights on integration options, compliance assurance and security credentials.
Technology like this change business processes for the better – making it faster, cheaper, easier and more easily accessible for all parties to engage in doing business.
SuiteBox- the mobile office solution for professionals. Request a free 21-day trial: contact .