We welcome HMLR's progress towards an electronic future for house buyers and sellers, providing a greener and safer environment for all. Existing digital solutions can immediately be deployed for most signing types but the industry may need more encouragement to modernise rapidly and securely.
However, we see that there is an opportunity and obligation to move further and faster, especially in the current environment.
Progress in small steps

The announcement is a material step, but progress harnesses only a fraction of current leading provider capabilities. We know that HMLR leaders acknowledge the potential of technologies such as qualified electronic signatures to transform conveyancing practices and this is shared by representatives of the Law Society, Council for Licensed Conveyancers and Chartered Institute for Legal Executives. But as a specialist provider of biometric, signing and document technologies, we at Icon UK also know that the broader Legal and Conveyancing sectors are generally unaware of ease, security and legal weight of the most advanced technologies. Despite a few visionary practitioners and thought leaders, most in the sector are content to simply wait until change is thrust upon them. Until there is a critical mass for change, evolution is slow.

For example, use of the 2008 Mercury protocol is rather outdated. It demands parties start with paper and, with a witness physically present, then use a series of discrete and time-consuming manual operations to replace postage; namely scanning, email, manual collation and exchange. Not good for convenience, security and provenance in the context of modern practices. There is a missed opportunity for promoting a different engagement around more advanced and modern practices with zero travel and paper, that are already well used and accepted in other countries.

Modern ID&V options via Video + QES

Accurate and timely Identity Verification and Validation (ID&V) is at the heart of any service requiring documented identity assurance. Modern technologies enable 100% of current processes to be transacted better digitaly. Of course, there should also be secondary procedures for those needing extra support, such as special needs or digitally unable. It's all about providing a range of choices with acceptable provenance and security for all modes, whilst enabling benefits of speed, safety, low cost and transparency for those willing to participate.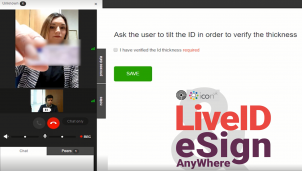 Icon UK represents Namirial in the UK. Namirial is one of foremost European providers of eSignatures (and associated technologies, such as Trust Services, eSeals, etc.) with a broad portfolio of services including capabilities to operate as a QTSP. Millions of users across many types of high value complex transactions securely transact on a daily basis for everything from vehicles to healthcare.

These advanced capabilities have become available in even easier ways to consume since the introduction of the eIDAS Regulation and its acceptance in UK law. EIDAS provides for two types of signing that are especially relevant to HMLR. In UK law, these are each the legal equivalent to wet ink handwritten signatures, namely 'Biometric' and 'QES', but under two different legal auspices, namely 'a handwritten signature in electronic form' and EIDAS-regulated 'Qualified Electronic Signature ("QES").

Biometric signing by hand uses a stylus pen on a tablet or similar screen for depositing a handwritten signature where a signer's dynamic method of pen movements is captured (as used by Department of Work and Pensions in Job Centres to verify claimant identity real-time). This biometric signature is capable of being forensically analysed more deeply than wet ink signatures and is regarded as more accurate than early-style facial recognition technologies. It is most appropriate for secure local in-person uses.

Alternatively, QES is appropriate for secure remote uses. Biometric signing can also be done remotely, and automated real-time signature recognition can be added for instant online verification. To this additional services can be conducted via video meeting, with instant capture of documents, facial and voice biometrics. These can be validated within seconds against known samples and appropriate databases.

Whatever mix of front-end choices, all these rely on just one back-end integrated platform, which is available on a white label basis to any organisation and can be run as a service or on their own infrastructure. The combination of these technologies allows Financial firms, Private Banks and Investment Managers to transact safely with higher levels of assurance than any almost other method available – and certainly representing the most cost-effective method of signing complex high value documentation.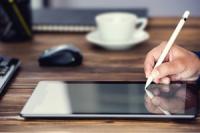 So why hasn't HMLR more fully embraced the opportunity?

It is puzzling that HMLR comments that it is 'awaiting the technology to mature'. As noted above, this may be influenced by a lack of awareness of proven technologies amongst the Conveyancing profession - a 'chicken or egg' issue. But the situation also requires leadership from those bodies that the industry looks to for guidance. No-one will exert speculative effort if no possiblity of success is perceived. Whilst it is positive that HMLR acknowledges the existence of eIDAS, the eIDAS regulations and compliant active market participant solutions have recently seen their fourth year anniversary. And some solutions were available prior to this!

The UK generally lags EU best practices when it comes to completion of electronic documentation. This is for many reasons, but for eSigning this may be largely due to UK Banks early abandonment of signing for simple bank transactions such as Cheques or online purchases, favouring Chip and Pin and new forms of digital transactions and currencies. Basic eSigning was subsequently seen as somewhat unfashionable with little innovation - but this ignores huge strides being made by market challengers.

Some UK organisations are global pioneers of alternative methods of the identification of individuals and methods of consent and witnessing, however most of the commercial solutions of scale are driven by US vendors. When it comes to eSigning, the US vendors have focused on the mass market of simple transactions, rather than the high value complex signing landscape relevant for property transactions. There are also tensions between the US Cloud Act with the EU's GDPR. Particularly with the importance of home ownership, should such risks be taken?

We seek active collaboration partners

Icon has been showcasing biometric and eSigning technologies in the UK for many years, enabling some clients to launch world beating unique own-branded services. Namirial has been working closely with EU regulators and official bodies to ensure that an open and standards-based approach is matched with practical solutions. This is not just for online e-Identification and Trust Services. For example, the European Network of Forensic Handwriting Experts (ENFHEX), an Expert Working Group of the European Network of Forensic Science Institutes (ENFSI), openly recommend use of Namirial tools for practitioners examining both digital and wet ink signatures. Other innovations concern the long-term storage of documentation in PDF formats with access to all originally completed document features and audit trail.

Our collaborative co-design approach helps potential partners to get the best out of available possibilities. We seek organisations that are actively looking to significantly upgrade theirs and their industries operational practices. Process and design thinking is firstly applied to use cases, informed by a range of technical options. These include true omni-channel (remote and in-person) digital transaction capabilities offering the widest range of signing types which can be flexibly deployed via SaaS (public, private, managed) or on-premise. An organisation can make its own-branded workflows with, for example, full white-labelled consistent look-and-feel processes using its own digital certificates or in-house Qualified Trust Services options for both individuals and incorporated legal entities. To that add Qualified preservation of electronic signatures and seals, time stamps, registered delivery and many different pre-built integrations.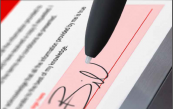 Next steps
Icon UK would be delighted to walk HMLR, any public body, private firm and/or prospective partner, through the many options legally available in the UK for signing and completion of electronic documentation. You may discover that the technology is more sophisticated and proven than the large US vendors portrayal of 'available range'. Our consultants would be pleased to provide a guided demonstration on how QES, Biometrics and the most appropriate technologies can be applied to any use case - with additional examples of best practice across clients for high value exchanges.
We recommend an ROI review of each of your intended use cases. We can support this with free and fee services.

Next step resources may also include:

- See today's HM Land Registry Announcement

- Review 'What is a QTSP, Qualified Electronic Signing and eIDAS'?

- Read the Law Commission review on the electronic execution of documents, together with relevant updated guidance in Practical Law.

- Review a detailed White Paper for various different use cases - Contact us to request.

- If you have only a limited number of users, check out our entry level Free eSigning for 2020-21 offer
Request a QES demo and/or ROI review here - Contact us