Digital Transformations to
Eliminate Your Process Frictions
Accessibility Controls
The player supports TAB to change the controls. Update Required<br/>To play the media you will need to either update your browser to a recent version or update your <a href='http://get.adobe.com/flashplayer/' target='_blank'>Flash plugin</a>.
Take the one minute tours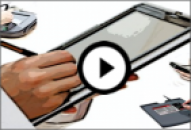 Connect with us on Linkedin

Call +44 (0)203 150 1081

or click here to arrange a callback
ClipBoard - video summary
For customers who demand paper documentation from organisations needing digital efficiencies.
With the Wacom Clipboard, your customers fill out paper forms like they always have. What is different? Those documents are converted to digital format in real time and can be uploaded immediately for easy document management. Better still, no scanning is necessary and biometric handwritten signatures can be captured and attached to the digital document.
Click the video window above to watch the short video summary.
Here's a reminder of the key features and benefits:
Customers can still fill out familiar paper forms (A4 or letter size) on the electronic clipboard.

Handwritten data can be captured and converted using handwriting recognition.

The barcode scanner integrated into the smart pad helps automatically sync the paper form with its digital version.

Secure, biometric eSignatures can be included with the digital document.

Authoring tool makes it easy to lay out forms documents and create corresponding digital version.

Organizations benefit from archiving and accessing digital documents.

As Wacom's premier Integration Parter in the UK, our consultants not only have the earliest working knowledge of ClipBoard but have multiple customer use cases (even before the product was officially launched). Whilst ClipBoard works stand-alone, for help and support with any integration activities speak with our professionals to get the most out of your ClipBoard use.
ClipBoard - the ideal stepping stone to fully digital processes involving no culture shock.
Explore further information on the website - or contact us to discuss your circumstances.