Digital Transformations to
Eliminate Your Process Frictions
e-Signature Briefing by iconuk
Hit your goals for Service, Sales, Compliance, Cash-flow and Costs faster with e-SIGNing.
---
Couldn't make CeBIT? We have the solution for you! A packed briefing featuring the most innovative e-signing technologies shown at this year's world's largest IT exhibition and conference in Germany, CeBIT.
iconuk has the pleasure of inviting you to an exclusive audience with a world authority on e-signing, xyzmo's CEO, Gerald Cäsar. We complement this by demonstrating how easy the best solutions are to use by both staff and customers.

This event has been organised to enable UK organisations to understand the current opportunity and discover what leading European and American organisations are doing.
During the session we will be exploring the following questions;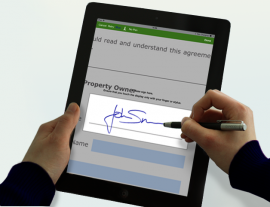 'What signing and verification technologies are available in the market?'
'Why do consumers favour handwritten biometrics?'
'What are the obstacles to successful implementation?'
'Why do 'first movers' often benefit the most?'
And an open Question and Answer session on any biometric or non-biometric electronic signature topic.
In addition, there are Demo's and One-to-One appointments available:
Demo Topics
Complete & sign documents electronically
Authenticate signers using handwriting biometrics in real-time
Control workflow better to gain compliance and 'speed to cash' benefits
Freedom of hardware choice (ipad, PC, Android tablets, smartphones, sign-pads, etc)
Fraud proof signing and forensic signature tools
One-to-One's
Following the sessions, on a first come, first served basis, appointments can be booked for experts to offer free consulting on the e-signature issues facing your organisation. Iconuk offers increased customer satisfaction, improved compliance and excellent ROI delivered within 3 months, or from Day 1 from the SaaS cloud platform. It starts with envisioning the future.

Thursday, March 27th 2014

techUK: 10 St Bride Street, London.

Session 1 - End Users - 1.00pm - 2.45pm

Session 2 - Vendors - 3.30pm - 5.00pm

The event will take place at techUK, the home of the UK's IT and Electronics Industry situated in the heart of London.
There are limited Spaces, so book quickly*
Please use the email form below to book your place
(or call 0203 286 1600 for agenda queries). See you there!

Booking Form - e-Signature Event
Come and find out why the functionally rich E-Signature Platform is trusted by millions of users.
(*icon uk reserves the right to decline places).