Signature Capture for iPad and Android
By incorporating either iPad or Android signature capture into the age-old process of signing documents, companies can save front and back office costs in labour, printing, scanning, faxing, mailing and long-term storage of paper originals. You can now e-mail the document for immediate receipt by the client, partner, co-worker or employee. They can instantly sign it electronically with a tablet or smartphone no matter where they are, just as they are used to doing with their handwritten signature. Field agents can also get documents signed in person, in real time, by presenting a document to a client on a tablet.
The apps are integrated with and built on xyzmo's SIGNificant platform, thus ensuring the e-signature process is driven on a mobile device using the same flexible e-signature platform as in a browser. This simplifies development and gives agents, branches, service personnel and other users the same functionality through mobile devices as on the Web.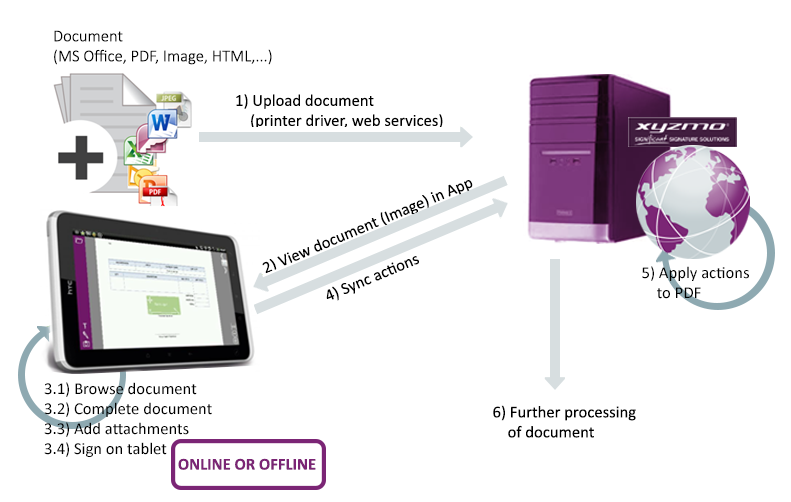 Sign on the Dotted Screen
Watch the short (silent) videos summarising iPad and Android signature capture core functionality:
Notice how similar the iPad and Android experience is! With xyzmo SIGNificant its easy to mix and match devices across the organisation, so in one Division and process iPads (or other devices) can be used whereas for another Division/process Android signature capture devices may also be used. All use the same secure back-end server software for easy document workflow integration.
In addition to the general features described in the Overview section, Signature Capture for iPad and Android functionality includes: