Web-based E-Signing
(SIGNificant Server Web Signing Interface)
The SIGNificant Server Web Signing Interface makes signing and sealing electronic documents via a web browser as easy as signing a piece of paper. The integration of digital signature software with the existing infrastructure is very straightforward and convenient. You can start your e-signature process with a document set produced from your core system and once signed, the document ends up where it needs to. Signing fields and logic - the basics of the signing ceremony - are added to the document before signing by the customer.
The SIGNificant Web Signing Interface module of SIGNificant Server enables the signing of documents in the web browser of any client location - at business, home office or even on the road - as long as an internet connection is available. There is no need for any digital signature software components to be on the local computer for the connection to the signature device.
Architecture
The digital signature software suite supports many types of common hardware types (e.g. all screens with stylus input [such as Touch-PC, Wintab or Tablet-PC]) and most specialised e-signature devices (including all manufactured by Wacom and StepOver, even the Signotec Omega Pad). The solution runs in a highly scalable manner and failsave in your (or our) datacenter. Your existing solution simply calls a web service or the "print" command of the SIGNificant Web Signing Interface, to sign a document with the personal signature or certificate in the web browser. Follow the steps below: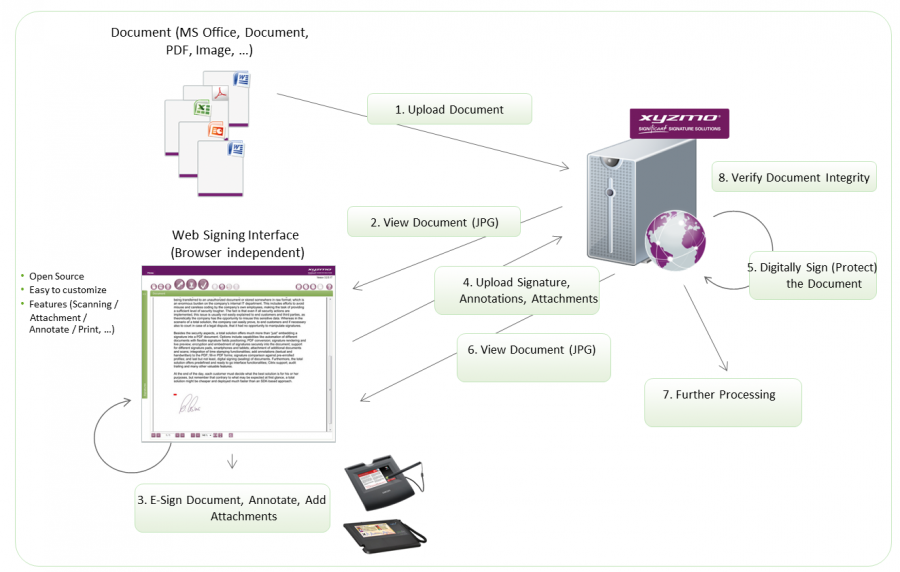 Watch the short video summarising our digital signature software functionality for web signing:
In addition to the general features described in the Overview section, SIGNificant Server Web Signing functionality includes: