Paperless and Paper-Lite Solutions
We provide the broadest and deepest range of electronic signing solutions in the market. As specialists in e-Signing, e-Identity and e-Forms, we can advise on the best technologies for your use cases. All our solutions are designed with the highest UK and EU standards foremost, more secure and more local (with all capabilities enabled to run 100% within our client's workflows or from UK/EU based servers).
From our portfolio of partners, three broad solution types cover the majority of uses (contact us if you have other requirements):
1. Paperless no-stylus-needed workflows
More choice of Signatures
With eSignAnyWhere it's easy to get documents signed and closed business on any device. The signer gets an email with a link to your document and signs on a smartphone, tablet, or any web browser without the need to download anything. You can have multiple signers and get them to sign in the order you need.
We support the widest range of electronic signing methods on one platform, so you do not need to decide in advance what will suit clients best for all different use cases. One common server integration supports all signature types: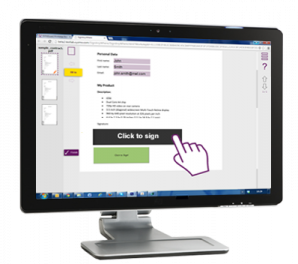 simple signatures (Click2Sign, Draw2Sign, Type2Sign)

certificates for signing

biometric signatures (with stylus or finger).
In combination with authentication (e.g. OTP-SMS) we support Advanced Electronic Signatures (AES) and with integration with the Trust Center we offer Qualified Electronic Signatures (QES) too.
We support the delegation of signatures (in which a user forwards a signature task to someone else), parallel signing (two or more signers signing in parallel), and bulk-signing (the ability to sign more than one signature field at once).
How is it used?
Sending is done with just a few clicks:

Signing is easy for the recipient:

Start a new envelope (a container used to send one or more documents for signature).

Signers receive an email with a link to the document.

Add documents.
Add recipients.

If uploading a PDF document with form fields, the fields are automatically detected.

There is no need to download or sign up for anything.

Place tags/markers in the document for signatures, attachments and other info.

They may have to further authenticate themselves.

Add your subject and the message for the email.

They can review and print the document or complete form fields and add attachments.

Set recipient options, reminders, expirations, and more.

Whenever they are ready, they sign using:

a mouse, or
stylus, or
smartphone, or
"Click to sign", or
"Type to sign"

from any web-enabled device.

Send the envelope/document for signature.

Click to discover eSAW major features and benefits
2. Handwritten Paperless
- biometric eSignature Platform trusted by millions of users
Organisations requiring the best functionality for handwritten e-signature capture, verification and enterprise workflows use SIGNificant. Handwritten biometric electronic signatures improve legal effectiveness, security and customer adoption. The key process steps are:
| | |
| --- | --- |
| 1. | Forensically identifiable digital signatures captured with tablet-PCs, Slate-PCs, iPad and Android devices and signature-pads. |
| 2. | Pre-define signature fields, fill-in form fields, handle attachments, textual and handwritten additions, password protect, etc. |
| 3. | Verify captured electronic signature biometrically in real-time or later. Check signature consistency against known samples. |
| 4. | Secure both the digital signature and document content with encrypted signature data sealed with the document. |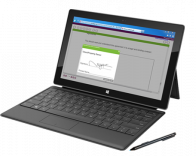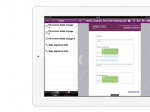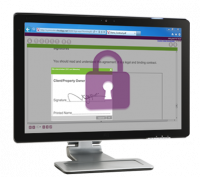 These steps can be set within many different process types across an organisation, from a simple 'stand alone' process to tightly integrated into cross-Enterprise workflow processes. Choose the tailorable elements that best suit each individual business process with variable security thresholds, user interfaces, etc - all of which can be deployed on a mix-and-match basis with a single integrated scaleable back-end platform.
To achieve these functions, clients can choose from a rich selection of features (hover over each for more info).......
SIGNificant Feature Overview
Handwritten Signature Capturing
(Forensically Identifiable)

Device Independent: Choice of
multiple hardware


PKI-based Digital Signatures
Adobe Acrobat compatible PDF
Fill out and sign PDF forms
Typewriter
Add attachments
Identity/Signature verification
Control all steps in the signing process
Implementing Policies
Watermarking
Flatten PDF
Document Binding
Content Protection
Extensive integration possibilities
Customisation
On-premises or Cloud-based
Offline Capabilities
And many more....

Click to discover solutions for:
3. Paper-Lite solutions - ClipBoard
For organisations that absolutely feel they need a paper copy, whether for regulatory, legal (almost none now), cultural or no-training implementation reasons, our solutions offer the ideal hybrid to a fully digital experience. Using specialist dual nib combined Stylus-Ink pens, simultaneous paper and digital originals are available both locally and across the whole organisation.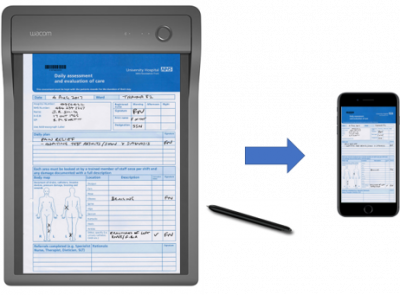 Click to discover more about ClipBoard
We can provide a range of other capabilities including static image signature recognition and processing, signature-related process automation and sophisticated composition of documents/forms. Talk with us about your next project.

to Products page