Transforming
Customer-Centric Communications
Take the one minute tours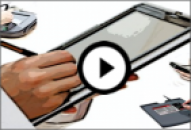 Connect with us on Linkedin

Call +44 (0)203 150 1081
or click here to arrange a callback
Industry and Business News
| | |
| --- | --- |
| Electronic Execution of Documents - Law Commission Report Summary | 4th Sep 2019 |
The Law Commission's review of UK law relating to e-Signing is published today. Here's the short version and a little perspective...
| | |
| --- | --- |
| Advisors - want extra profits? Well, the £64,000 question is... | 26th Mar 2018 |
…Is your business ready to deliver advice digitally and become more cost effective in the process?
| | |
| --- | --- |
| Driving home for Christmas... Or not. | 11th Dec 2017 |
Real life isn't quite as romantic as Chris Rea implies, and driving home for Christmas can be more like the road to hell.
| | |
| --- | --- |
| The three R's of documentation technology | 24th Oct 2017 |
The ability to Write, Record and Review all your information making it easier for you to check back on what you discussed and agreed – safety and securely.
| | |
| --- | --- |
| ASF Users - Enterprise Architects & IT Management | 8th Sep 2017 |
Are you still using legacy products in your Document Creation and Output Management?
If so then you will be familiar with the following frustrations, common in departments operating legacy systems…
| | |
| --- | --- |
| Digital Space Features | 18th Aug 2017 |
Diagramatic Illustration of the range of features of our Digital Space technologies - all in one virtual environment.
| | |
| --- | --- |
| Are you a 'forms-centric' Marketing department? | 16th Aug 2017 |
If you work in Marketing in Banking or Finance, or any other forms-centric Marketing department, you might be familiar with the following scenario…
You want to distribute electronic communications to customers but your document templates need amending to fit the campaign. You must request these amends from IT but there's a delay as they struggle to find workarounds to suit your needs. You miss your deadline. Perhaps the next one too!
| | |
| --- | --- |
| Why do we need a truly "Digital Workspace" ? | 14th Aug 2017 |
Digital Workspace explained
A "digital workspace" is the combination of a document collaboration tool, coupled to a video conferencing service and merged with digital signing tools and the ability to verify identity details. All functionalities are wrapped in a cloud service that is perpetually "on" and offers the ability to record for audit and regulatory compliance purposes.
| | |
| --- | --- |
| Paperless society | 11th Jul 2017 |
Nearly two decades into the 21st century, we are getting closer to the "paperless society." Thanks to emerging paperless technologies, business owners can bypass many headaches and decrease their environmental footprint at the same time. Not only does going paperless clear clutter from your office environment, but it also saves you money and is a great PR message for potential customers and partners!
| | |
| --- | --- |
| Customer Communications Innovation in Retail Banking | 19th Jun 2017 |
Never has the face of banking changed as much as it has in the past decade. Trust is low, innovation in user interfaces is increasingly driven by consumer technology and security sees experimentation with biometrics and multi-factors for authentication and access. But the change in the next decade is going to be more fundamental as some of the world's largest firms focus on this space. Ones such as Google, Apple, FaceBook, Amazon, and AliBaba (dubbed "GAFAA") are bastions of innovation and have billions of regular users.
---
| | |
| --- | --- |
| SuiteBox integrates with XPLAN . | 18th Oct 2017 |
Following hot on the heels of the announcement of SuiteBox's Distribution Agreement with Icon UK, we are pleased to congratulate SuiteBox and IRESS on the successful integration of the SuiteBox platform functionality into the latest IRESS X-PLAN software. Australian headquartered IRESS produces software to support clients globally with a wide range of products ranging from Financial Planning, Broking, Investment management, Life and Pensions and Mortgage lending and protection.
| | |
| --- | --- |
| Icon UK brings superior SaaS solution, SuiteBox, to the UK market | 16th Oct 2017 |
Icon UK, is proud to announce that only this morning, it formally signed an agreement for the exclusive distributor rights for the powerful 'digital workspace' solution, "SuiteBox".
| | |
| --- | --- |
| Bridging the gap between Paper and Digital - Wacom Clipboard e-Gov event | 12th Jul 2017 |
Wacom chose the National Theatre's rooftop terrace as the UK launch platform for the ground-breaking Wacom Clipboard. From here one can imagine the varied journey paths of a paper based file record to Whitehall, but even if folded into the best paper plane a digital equivalent will arrive faster and more securely!
| | |
| --- | --- |
| IBM Announces End of Support for ASF - meet DOPiX | 10th Nov 2015 |

IBM today, Nov. 10, 2015, announced the End of Support for their core document management mainframe software Application Support Facility, "ASF" (announcement ZP15-0642). IBM has identified the DOPiX ASF Replacement Kit (DOPiX ARK), from IBM Business Partner icon, as the recommended replacement for ASF as stated in the announcement. All existing customers are strongly advised to review the essential information provided by links herein.
This article provides key information on the recommended solution from IBM.
| | |
| --- | --- |
| Icon presents z-led Enterprise CCM at GSE UK 2015 | 1st Nov 2015 |

Icon UK CEO Chris Jones and Icon founder Uwe Seltmann present "The Key Role of Customer Communication Software in a Digital Enterprise" at GSE UK 2015. Guide Share Europe (GSE) is IBM's premier large systems User Group and the Annual Conference in the UK is at Whittlebury Hall on 3rd-4th November 2015.
| | |
| --- | --- |
| IBM announces legacy ASF/DCF upgrade path - powered by DOPiX | 11th Nov 2014 |

Customers still on IBM's Enterprise Document Management platform Application Support Facility ("ASF") have been facing an issue for some years as IBM withdraws support for both ASF and closely related Document Composition Facility ("DCF") software. Changing platform from this typically mainframe resident software is going to be costly and complex with most choices.
With icon's DOPiX, IBM now offers next generation capabilities for document creation, formatting and output processing on an industrial scale. Current customer investments in ASF and DCF technical skills can be protected with binary compatibility whilst also enabling modern functionality. The icon DOPiX /ARK v4.0 offers an ASF Replacement Kit for z/OS mainframe use.
| | |
| --- | --- |
| Biometrics 2014 Exhibition & Conference, London | 3rd Oct 2014 |

Seminar
and demo's at Biometrics 2014 Exhibition and Conference
| | |
| --- | --- |
| icon and IBM Germany Insurance Partnership | 1st Jul 2014 |
Far-reaching partnership between IBM and icon creates a variety of synergies
Interview with Stefan Riedel, Vice President Insurance, IBM Germany and Uwe Seltmann, majority shareholder of the icon group [published in Versicherungsbetriebe, Edition 02/2014]
| | |
| --- | --- |
| Product and Company News for March | 3rd Apr 2014 |
A round up of the latest product news and industry events happening in March.
| | |
| --- | --- |
| 27th March icon UK free e-Signing Event | 12th Mar 2014 |
London

e-Signature Briefing by iconuk
Accreditation & Memberships:





Please click above to request a callback
© icon uk Ltd 2019 Terms & Conditions | Privacy Policy | Site Map | Contact Us | Careers | Site Usability
Powered by Intergage