Digital Transformations to
Eliminate Your Process Frictions
Session 3: Fraud incidents: prevention using video-enabled document and identity management systems
In a world increasingly moving towards digital processes and staff in remote offices, how do we reduce fraud and deception? In this session, we examine some fraud cases and explore how digital Smart Meeting enablement could have prevented problems.
Learning Points:
1. Ways that fraud incidents may be prevented using smart tools
2. The behavioural benefits of video-assisted functionality
3. How the challenges of implementation can be overcome
Accessibility Controls
The player supports TAB to change the controls. Update Required<br/>To play the media you will need to either update your browser to a recent version or update your <a href='http://get.adobe.com/flashplayer/' target='_blank'>Flash plugin</a>.
About this Session:
This session provides examples of fraud where the identity of the participants in the transaction was not sufficiently positively identified. It examines what impact Smart Meeting technologies would have in similar cases and explores the common barriers to solution implementation and how to overcome them.
1. Fraud Examples
Two examples are given. The first is Mortgage fraud, also applicable to many more types of Loan fraud. In online self-service transactions, organisations must counter the challenge of deception when organisations lose the ability to see the people involved. Even if they have the correct information from an accomplice, if a financial organisation does not operate with sufficient duty of care it may find itself involved in a court claim with costs and reputational impact.
How can one be sure that an individual is who they say they are, without being able to verify that individual using visual, audio and behavioural insights from Face-to-Face in-person meetings?
The second more common example suggests that whilst a "click to sign" e-signature may be legal, if it does not require the signer to positively identify themselves with strong authentication for higher value transactions then such inappropriate providence may again encourage future legal challenges.
When a dispute was taken to court the simple signature used (type your name) was insufficient as evidence as it could not be proved who actually signed the agreement.
2. How could these have been prevented by digital anti-fraud tools?
Using the Smart Meeting technologies discussed in the last Masterclass, there are measures to both stop fraudsters signing up on the first place and detect impersonation or misrepresentation.
Smart Meeting methods enable the use of biometric Face, Voice or even Signature recognition, with ID Document validity checks and Video Recording of all parties within the same session. This video-assisted functionality offers a range of behavioural benefits in the fight against fraud due to:
Fraudsters don't want to be videoed
The ability to conduct Identity and Credit Reference checks on the fly
Individual's awareness of being recorded reduce their inclination to lie, exaggerate or misrepresent, both client and/or agent side
Permanent records of the actual meeting and documents reviewed create robust provenance.
3. What are the challenges of implementation and how can they be overcome?
It is not uncommon for organisations to have the technology they rely upon fragmented across their divisions, making it intimidating to build a platform to serve the customer across many integration points.
Regulators are also forcing changes to working practices; everyone has been impacted in some way due to GDPR data privacy rules and associated changes to operational procedures. Each industry and sector has its own constantly evolving sets of requirements, so technologies need to be flexible and configurable to easily accommodate constant changes.
How can challenges be overcome?
There's a long list of remedies, mitigations and advice potentially available. These include:
pay attention to examining existing working practices to see if these are appropriate for Smart Meetings
look for an easy to use solution for both customers and your staff
build Data Privacy into your requirements and design
try to buy not build, for example using solutions with pre-integrated connectors or low code approaches for connecting to your legacy applications will save time and be more reliable.
To build a case for change, an internal justification must be presented (often after gaining consensus) preferably including:
Documenting the "as-is" to baseline (also be used to measure future improvements against)
Perform a digital maturity matrix assessment and compare the results to your peers
Become more knowledgeable for the tools and platforms that are available
Consider starting small, focusing on the biggest benefit or reduce fraud impacts the most
Build a business case including a projected ROI model
Get some external support by hiring a consultant to guide you through the process.
4. Why should I use external support?
Avoid the costs and delays of internal learning. External resources can help in many ways ranging from consulting inputs to augmenting project teams or actually leading the implementation from a business or technical perspective. Using external support can guide you through the process saving time and cost overall. Activities may include:
Challenging the current ways of working in a way that someone internally may not be allowed to
Educating teams with the available options, selecting from broad experience to solve problem areas and highlighting the right tools for each specific organisation's architecture
Developing new shared visions and strategy, with documented output covering requirements and solution approach.
Take Aways:
1. Working Practice, Data Privacy and Platform challenges can be met flexibly
2. Smart Meeting tech stops fraudsters and enables bone-fide customer engagement
3. External specialist support helps build a case for change and optimise new processes
WATCH SESSION 4: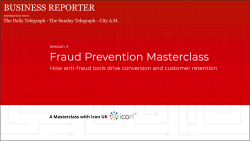 The positive impact of platforms on conversion and retention rates
In the next session, we're going to discuss how anti-fraud tools can drive conversion rates and customer retention and improve RoI.
Bonus
Interested in performing a Digital Maturity Matrix assessment?
Why? Click here
Under 5 minutes to complete, Click here
Contact Us
- To find out how you compare with other organisations in tackling fraud and the causes of it
- … or for anything else. CONTACT