Transforming
Customer-Centric Communications
Take the one minute tours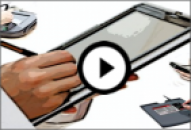 Connect with us on Linkedin

Call +44 (0)203 150 1081
or click here to arrange a callback

Meet, collaborate and transact with clients anytime, anywhere
The digital workspace for professional services
Meet, collaborate, and transact with clients all in one easy to use software application
The pre-integrated combination of functionalities necessary to undertake document and identity processes face-to-face over a screen of the user's choice:
screen share, instant chat, collaboration technology, digital signatures and recording functionality - all in one private cloud-based virtual box.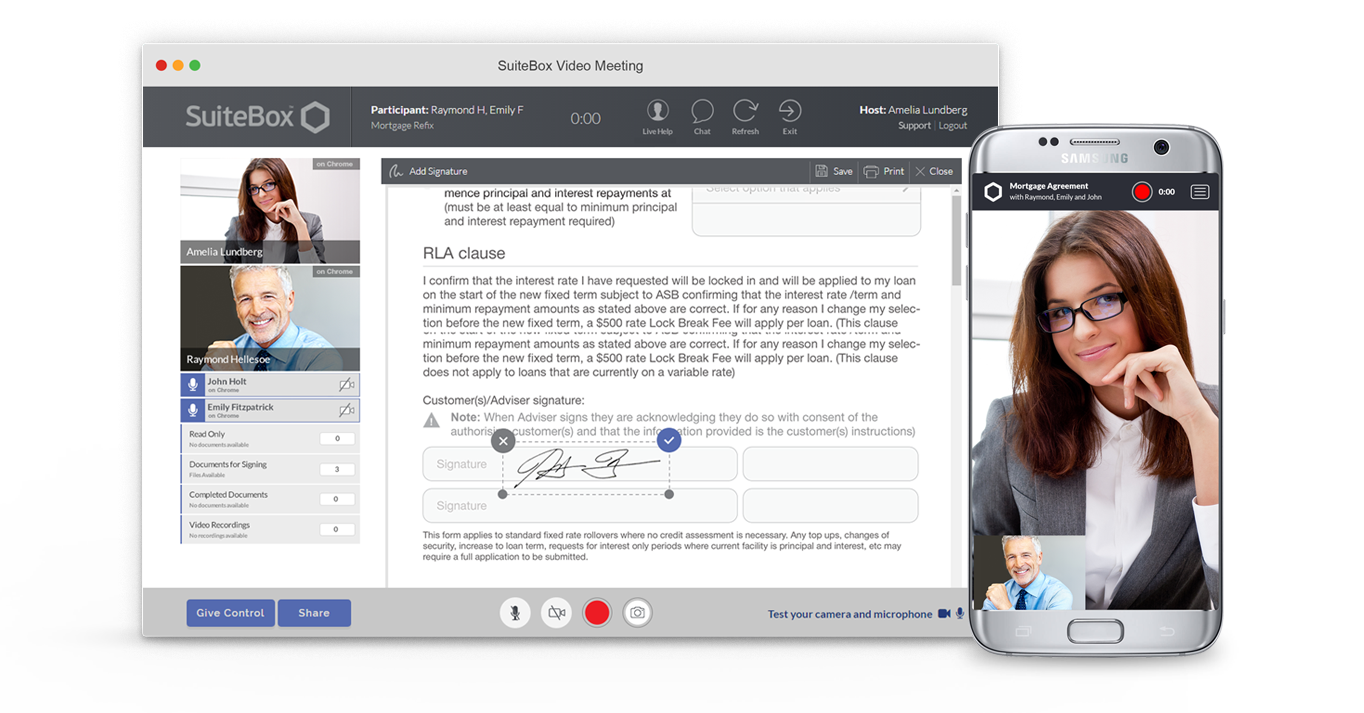 Supported Browsers
Meet More Clients. Transact More Business. Customised CX and Compliance.
Unlimited private video conference & store, screen sharing collaboration and digital signatures.
Benefits of using SuiteBox:
Meet more clients, more often
- Save up to 6 hours per week per user (average) by holding your meetings online.
- Unlimited meetings, scheduled or immediate access.
- Manage your client meetings online - via your desktop, smartphone or tablet.
Build stronger relationships
- Engage with clients anytime, anywhere.
- Easy to use screen share software.
- Screen share applications and tools with anyone in your online meeting.
- Share control with up to 3 participants on any applications and documents instantly.
Transact more business
- Accelerate sales with online digital signatures.
- Use the latest digital signature and identification technology.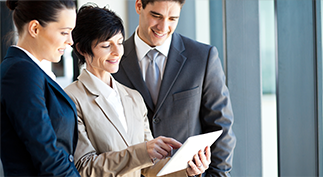 - Digitally sign documents online with full video of user agreement (on-screen and web-cam).
- Automatically records and saves digital signatures securely for compliance.
Customise your client experience

- Brand SuiteBox with your company name and logo
- Integrate within your online portals
- Include colleagues from the same or remote offices in client discussions.
- Choose add-on functionality to suit your processes.



See what you could do in your video-enabled meeting:
Accessibility Controls
The player supports TAB to change the controls. Update Required<br/>To play the media you will need to either update your browser to a recent version or update your <a href='http://get.adobe.com/flashplayer/' target='_blank'>Flash plugin</a>.
Integrated with applications from partners such as:



See the iress XPLAN integration for Financial Advisors summary video - Click
HERE
Our Prices
Try or buy now - don't wait to offer a superior customer experience.
Start Your Free ROI calculation
Return on Investment (ROI) comes from many sources, including travel avoidance, shorter meetings, fully digital process, one meeting to replace several, automatic capture of documentation, electronic signing, automated compliance, and many more. Our ready reckoner is a quick guide based on client ranges....
How much?
See for yourself
Subscribe
Unlimited video meetings, recordings, screen sharing collaboration, and digital signing of documents.
Buy Now
* £29 per month per user if paid annually in advance, or alternatively pay-as-you-go £35 per user per month.


Enterprise
Speak with our team for advice on integration and your bespoke enterprise package.
Testimonials: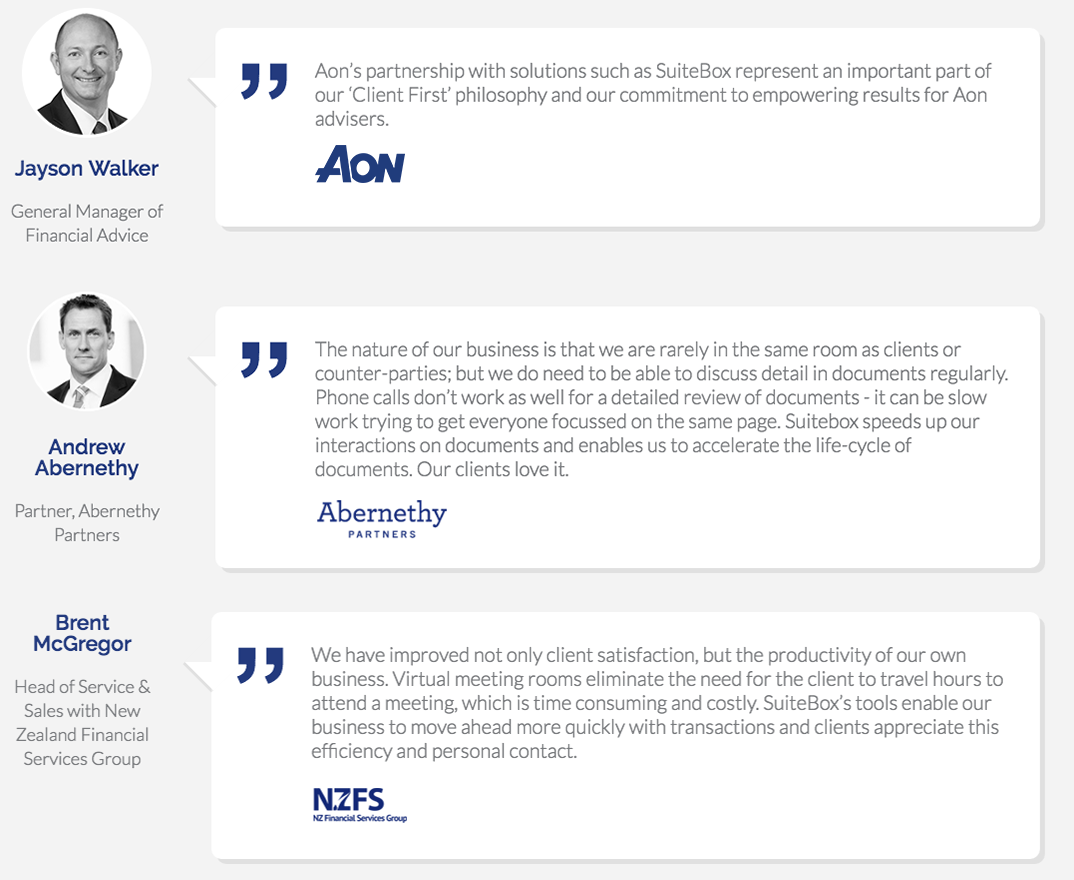 SuiteBox provices free support through our knowledge base, Developer Centre, and forum.
Get help fast by searching our knowledge base for expert answers to the most Frequently Asked Questions: